A massive thank you to everyone who supported, volunteered, participated, donated, and showed up. What a day.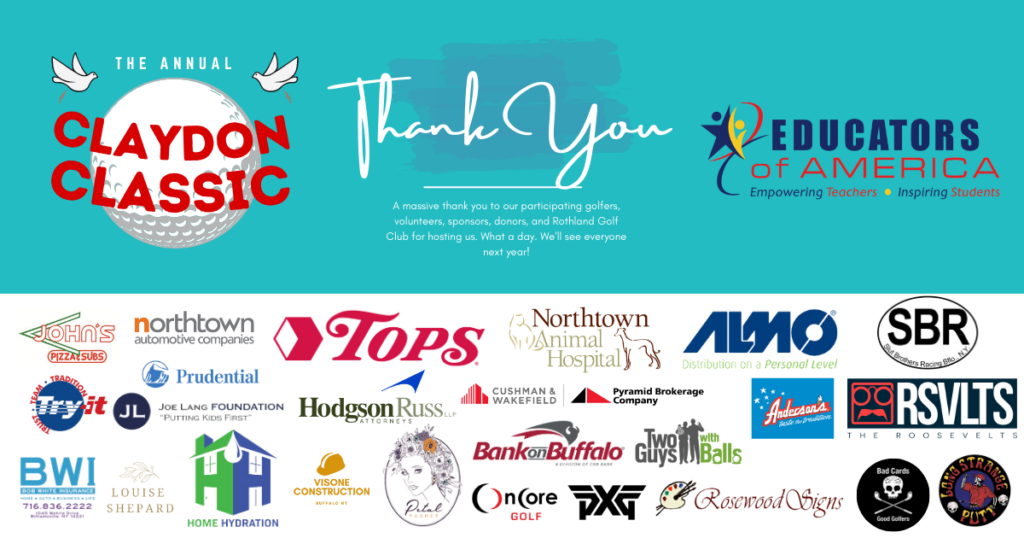 I am happy to announce that the 2023 Annual Claydon Classic Golf Tournament held on Saturday, July 1st at Rothland Golf Club was a resounding success. On behalf of Educators of America, we are overjoyed to announce that, thanks to the incredible support of our participating golfers, sponsors, volunteers, and donors, we raised a remarkable $15,000 in support of Educators of America. We extend our deepest gratitude to everyone who made this event a triumph for a cause that means so much.
A day of golf, generosity, and more than a couple of bogeys, The Claydon Classic Golf Tournament brought together golf rookies and veterans from near and far, uniting them in their shared passion for the game, their commitment to making a positive impact, and dedication to celebrating the late Ben Claydon. Amidst the gentle breeze, a level of humidity fit for Florida, and enough dog leg turns to begin questioning if you should put the driver away, golfers showcased their skills, hit some marshmallows, and shared laughter and camaraderie throughout the day.
A Shout-Out to Our Amazing Golfers: We extend our sincere thanks to all the golfers who participated in the tournament. Your enthusiasm, sportsmanship, and unwavering support made the event truly special. Your generous contributions not only made a significant financial impact but also demonstrated the power of coming together for a common cause and remembrance. A big kudos to those who showed up dedicated to winning the Best Dressed Foursome.
Gratitude to our Incredible Sponsors: We would like to express our heartfelt appreciation to our sponsors who contributed to this event's success. Your support and commitment to improving education in our communities are truly commendable. Your partnership has helped us make a significant difference in the lives of students and educators alike.
Volunteers, the Backbone of Our Success: A heartfelt thank you goes out to the dedicated volunteers who selflessly gave their time, energy, and expertise to ensure the smooth execution of the tournament. Your hard work and dedication did not go unnoticed. From registration to providing on-course entertainment and beverages, your invaluable assistance made the event memorable and enjoyable for all.
Donors, the Heroes Behind the Scenes: We extend our deepest gratitude to the generous donors who contributed to our fundraising efforts. Your contributions have a direct impact on Educators of America's initiatives, empowering educators and transforming education for countless students across Western New York and beyond.
Conclusion: The 2023 Annual Claydon Classic Golf Tournament was a remarkable testament to the power of unity, generosity, and community spirit. With the incredible support of our participating golfers, sponsors, volunteers, and donors, we raised a remarkable $15,000 for Educators of America. Your unwavering support has created a lasting impact that will positively influence education for years to come.
Thank you, once again, for your remarkable contributions and for joining us on this meaningful journey. Together, we have made a difference and highlighted the importance of supporting our educators and students. We look forward to your continued support in our future endeavors. A huge round of applause for the costumes this year – especially in the heat and humidity. The commitment is real.
With the biggest heart,
Brett Claydon
Tournament Director / Director of International Development
Educators of America, Inc