What is Ka Hele Mua?
Ka Hele Mua (The First Stride in the Native Hawaiian language) is an instructional model and student-centered program developed by Educators of America in conjunction with Hawaiʻi's Department of Education and the Hawaiʻi Community College at Pālamanui. The purpose of Ka Hele Mua is to engage and connect youth in Hawaiʻi to STEM careers and occupations on their island in authentic and meaningful ways.
Why does Ka Hele Mua exist?
Ka Hele Mua was created to spark curiosity in the youth of Hawaiʻi by approaching STEM curriculum through a biocultural restoration lens. Features of Ka Hele Mua have shown promise to increase the engagement of students in STEM education and career pathways, and we are excited to continue studying the potential of this approach.

How does Ka Hele Mua work?
The innovative structure of a three-tiered technology integration alongside close collaboration with local industry partners allows learners to visualize a pathway to the local workforce and their future on the island. Ka Hele Mua enables local industry partners to identify future employees with the knowledge and ability to innovate, grow, and sustain new ventures in the STEM field vis-a-vis the island of Hawaiʻi. Our logic model below indicates the learning components that lead to short and long-term outcomes.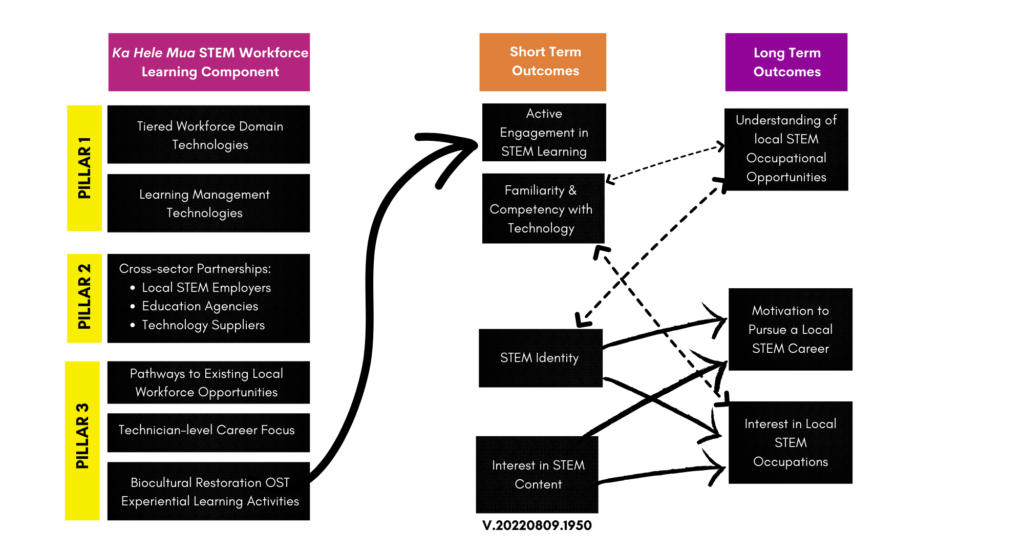 What can I do to be part of Ka Hele Mua? How can I help?
Ka Hele Mua is looking for education colleagues with a passion for helping students succeed, especially in STEM (Science, Technology, Engineering, Mathematics) on the big island of Hawaiʻi. This model is going to be implemented and the more teachers, counselors, administrators, and other educators we have on board can transform the trajectory of students and the environment of Hawaiʻi for the better. Please complete the form below to stay up to date on the next steps and for an invitation to our kick-off meeting!
---
Implementing a program like Ka Hele Mua requires plenty of resources – both monetary and in-kind – to help it succeed and grow into the future. Any amount of support helps kickstart this program and begin building upon the foundation of Ka Hele Mua. Make the first stride in supporting the future of the big island, its youth, and its environment.