While some of us on the east coast have been trudging through the spring, Gaston Middle School has been making their own greener pastures! The bright students of Gaston Middle have been hard at work on a year long project that has not only shown their hard work and commitment but it will bear real fruit, well maybe vegetables.
Gaston Middle's community garden is the culmination of hard work that goes far beyond the physical labor that it took to set up the garden. Gaston's English & Science department deserve a great deal of credit for putting together an engaging but real world applicable project that allowed their students to learn across multiple disciplines.
If you remember, Educators of America and Gaston Middle have been developing department by department, new methods and strategies to reach their students, specifically Project-Based Learning. Project-Based Learning occurs when a project, that is typically long in length and multi-disciplinary is done by a group of students with their instructor as a guide and gatekeeper rather than an outright teacher.
This journey began for Gaston back in the fall of '16 with a week of training in initial PBL strategies. Not only did they jump at the opportunity to learn but the faculty of Gaston has taken the challenge of implementing PBL to heart. Breaking off into their respective departments, the English department and the Science department both worked to broaden their students views of the project.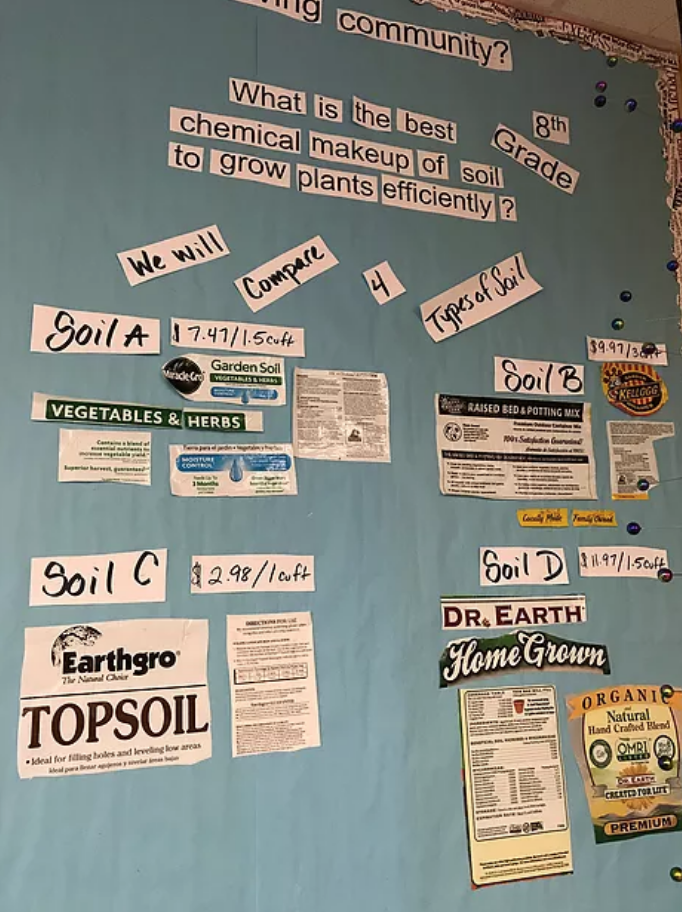 The Science department researched different types of soil and found their ideal choice for efficiency (left). Not only did this require students to reach in their textbooks  but it demanded critical thinking. Students had to consider price of the soil, chemical make-up (type of soil) and what the soil grew best.
After coming to a conclusion the students were left with two tasks, first to create their garden which the students did together (above) and secondly letting the community know about the hard work they'd done (below).
Gaston's faculty and students will be reaping the benefits of the garden for a quite a while and that's one of the most important aspects of PBL, creating something lasting that truly reflects your efforts. Gaston Middle's garden is one of the clearest examples of what can be achieved through PBL, engaging your students and teaching new content can be this fun!