What is #GivingTuesday?
Black Friday. Cyber Monday…all great things in the realm of getting your holiday shopping completed. But you keep hearing about this Giving Tuesday or National Day of Giving. Sure, it sounds philanthropic but what exactly is #GivingTuesday?
#GivingTuesday is a global giving movement that has been built by individuals, families, organizations, businesses, and communities in all 50 states and in countries around the world. Millions of people have come together to support and champion the causes they believe in and the communities in which they live.
Why #GivingTuesday?
We have two days for getting deals – Black Friday and Cyber Monday. On #GivingTuesday, we have a day for giving back. Together, people are creating a new ritual for our annual calendar. #GivingTuesday is the opening day of the giving season: a reminder of the "reason for the season."
Every act of generosity counts and each means even more when we give together. #GivingTuesday includes people of all ethnicities, religions, and backgrounds. Together, millions of people demonstrate our common capacity to give. From monetarily giving to giving back some of your time to a local charity or volunteer organization, #GivingTuesday is a way forward in encouraging our fellow human beings to support the causes they believe in, ranging from education to health to sustainable agriculture.
#GivingTuesday is a celebration of America's greatest traditions: generosity, entrepreneurialism, community. Everyone has something to give. You can give time or expertise, monetary donations – large or small, simple acts of kindness, food, or clothing. ​
---
Our #GivingTuesday2020 Campaign Theme

2020 has been a year that we will certainly not forget. From the COVID-19 pandemic to the continued fight against racial injustice to the US Presidential Election – this year will resonate in the future. But let's also make this year a time where our ability to come together and give back overcame all challenges and adversity. Our theme of this year's #GivingTuesday campaign is Access.
The onset of the COVID-19 pandemic sent teachers and students into the digital classroom – a classroom that many do not have access to. Low socioeconomic, rural, or urban schools do not have the means to provide all of their students with tablets, Chromebooks, or laptops that they need in order to receive virtual lessons, complete assignments, or get assistance from teacher aides.
This year our goal is to raise $7,500 to help fulfill Education Technology MicroGrant requests for schools that are in need of tablets, Chromebooks, or laptops for their students who do not have the access to them.

---
Ways to Give Back with Educators of America
---
Download EOA GivingTuesday Logos & Social Share Images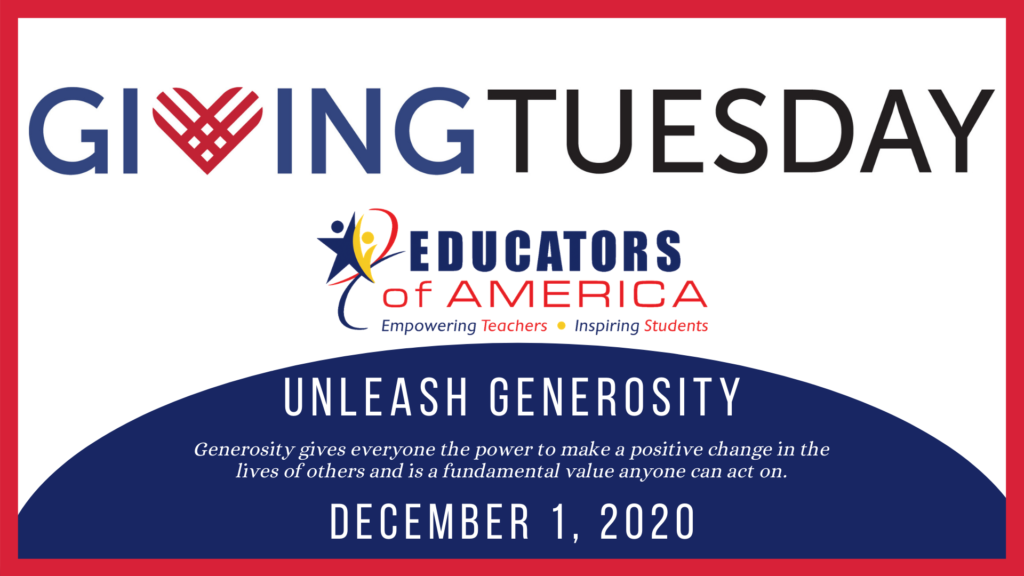 ---
Thank you in advance for giving back and we hope that this #GivingTuesday is one to remember.