Landing at Hosea Kutako Airport outside the capital Windhoek, the landscape is spotted with camelthorn trees and dry riverbeds. In the distance, one can see the undulating terrain of the Auas and Eros Mountains. The sun appears larger, more intense; an organic heat lamp brightly shining down on Africa's hidden gem.

January 3rd, we began our two and a half week trip across Namibia. It is the middle of summer in Namibia and temperatures can reach up to 106 degrees Fahrenheit (41 degrees Celsius). Sunscreen and hats are not recommended, they're a necessity.
After getting settled in Windhoek, acquiring the two new Cisco devices intended for two new participating schools in the Building Cultural Bridges program, we began our drive to the North…no, not the Game of Thrones North, the Namibian North, or affectionally known as Ovamboland or O-land.
Roughly a seven-hour drive to Ondangwa, we encountered a heavy amount of rain. Typical for this time of year as it is the rainy season in Namibia. The substantial amount of rain was evidently followed by an immense amount of greenery. An auspicious sight for farmers and livestock in the North.
After our arrival in Ondangwa, we made the short drive up to Ongwediva to meet with our participating Namibian teacher, Sarafina. Bright and ambitious, Sarafina provided us directions to the school where she taught, Hashiyana Primary School, and her journey on becoming a teacher at the school along with her fascination with classroom technology. Upon arriving at the school, we were fortunate enough to meet the Principal of the school, Amon Ndeitwa. The first term of Namibian schools had not yet begun (classes begin on January 15th), so Principal Ndeitwa was in his office prepping for the upcoming term.
After a successful Cisco DX installation and training in Hashiyana Primary School along with feedback from Sarafina and Principal Ndeitwa on what can make the BCB program better, we were off to the coastal city of Swakopmund.
Driving south, through Etosha National Park, into the town of Outjo and then past Karibib and the Uranium mining town of Arandis, we became engulfed by the briny sea air of Swakopmund. Our stop in this German-influenced and highly visited tourist city of Namibia was to meet with teachers from two participating schools, Westside High School and Festus !Gonteb Primary School. American student response letters in hand, we were warmly greeted by three teachers at Westside High School.
Ingrid, Tamara, and Grizelda, provided a comprehensive assessment of how the Buiding Cultural Bridges program had been operating in their school. Discussing their interactions with American teachers, new ideas for projects that Namibian students could present to their American counterparts, and steps to incorporate STEM education such as coding and programming into videoconferencing sessions, the amount of enthusiasm could be tasted in the air. Closing out the meeting with Westside High School, we headed out to Festus !Gonteb Primary School – only a few kilometers away.
Arriving at the school, pre-school preparations and admission were in full swing. Administrators moving swiftly between offices, parents patiently waiting to enroll their child in school, and an element of eagerness lingered amongst it all. Delivering response letters to the Principal of the school, our time was brief but we were left impacted by the vision of the school communicated by the Principal. This was the second school he would be operating as Principal over due to a vacancy recently created in a neighboring school. Undaunted by the challenge, he emitted confidence in his students' and teacher's participation in Building Cultural Bridges and establishing a rapport with their American counterparts.
Maintaining the tight schedule, our time in Swakopmund came to an end and we got on the dusty scenic back roads toward the inaugural town of the Building Cultural Bridges program, Oranjemund. Some 11 hours of driving through majestic and surreal topography that only Namibia can offer, we arrived in the town juxtaposed between the nourishing Orange River and mighty South Atlantic Ocean.
With only a few days to spend in Oranjemund, we reconnected with students, teachers, and principals to identify new engaging classes and perform maintenance on the videoconferencing devices located in the two respective primary schools. In addition to the maintenance and class identification, our colleague Vern, was able to interview a teacher and a principal about their experience in education in Namibia. A short video documenting these interviews is currently in the making!
Oranjemund felt akin to a homecoming. Navigating one's old neighborhood, remembering the sights and smells, encountering friends of past, reliving the moments that brought the Building Cultural Bridges program to what it is today; it is appropriate to admit a sense of sentimentality.
Bidding adieu and heading north to Oranjemund's coastal cousin town, Lüderitz, we were in the second half of our trip. In addition to Ongwediva, Lüderitz would be the home of the second Cisco DX videoconferencing device – specifically Diaz Primary School. Two teachers from Diaz Primary are committed to spearheading the program with assistance from a Peace Corps Volunteer to help build sustainability.
The BCB program is centered on connecting students from Namibia and the US. Moments such as witnessing students receiving and reading their letters reminds us that it is the young individuals who drive this program. They make it exist and we are only here to create a channel for them to bond.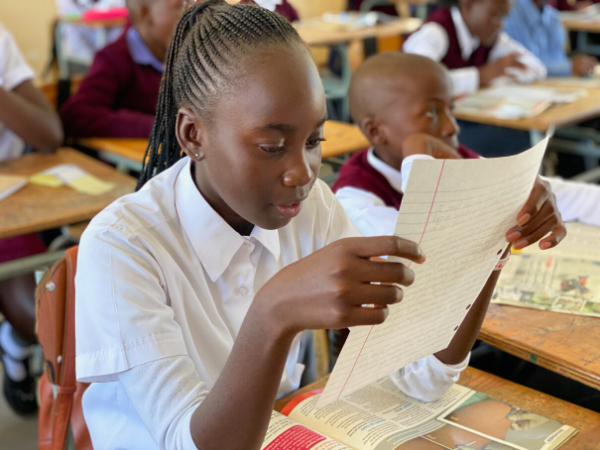 The BCB program is centered on connecting students from Namibia and the US. Moments such as witnessing students receiving and reading their letters reminds us that it is the young individuals who drive this program. They make it exist and we are only here to create a channel for them to bond.
Finishing up distributing letters, the installation, and training of the videoconference device in Lüderitz, we were back on the road headed north to Windhoek to spend one last day brainstorming ideas with potential partners in improving the BCB program by integrating career ideation and health subjects such as HIV awareness and prevention.
Reflecting on our time spent in Namibia, we are forever grateful and indebted to the countless Namibian students, teachers, principals, and all who give this program life. Seeing this program expand to additional schools in Namibia – to schools who deserve it, who know they can make it happen and can operate it sustainably, only further motivates us to continue to do everything we can to keep this program running.
Connecting students beyond their borders to their fellow peers across the globe develop not only friendships but so much more than meets the eye.
All these traits and skills come to life when students communicate and work together across cultures. They come to understand that the world is getting further interconnected and any of these individuals could be future teammates, colleagues, employees, or bosses.
Why wait to get to know them? Starting now can lead to endless possibilities.
---