Educators of America, in partnership with the University at Buffalo and Ventovate, are launching the first ever EOA Summer Camp!
By working alongside UB and the creative minds at Ventovate, Educators of America are able to establish a summer camp that goes beyond the stereotypical arts and crafts, games of capture of the flag, and end-of-summer talent shows.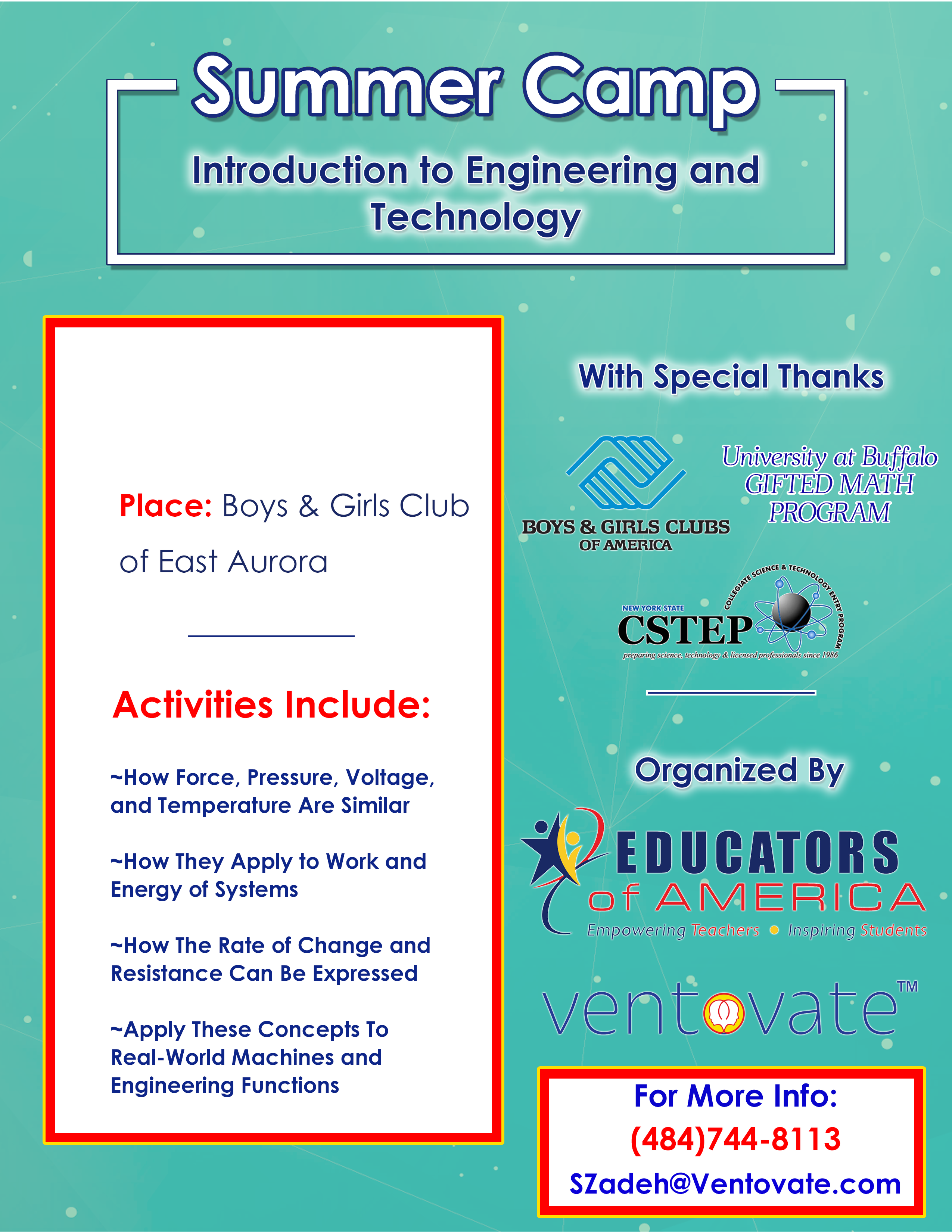 The Educators of America Summer Camp will give students the opportunity to experience and experiment with educational technology alongside their fellow classmates in a collaborative and innovative setting. You may be thinking, but isn't summer about being free from school and classrooms?
It is. But that doesn't mean you put learning on hold. Why do you think summer reading became a thing? Sure, students run around and get their exercise in during the summer but they still need to exercise their mind and stimulate their intelligence.
The Educators of America Summer Camp will be led by Educators of America's newest team member, Paul Coleman. Mr. Coleman is a High School Special Education Teacher whose pedigree includes a B.S. from University of Massachusetts – Amherst, M.S. from University of Nevada Las Vegas and M.A. from the University of Buffalo.
We are very proud and inspired by Mr. Coleman and cannot wait for him to lead our new summer camp in the best direction while guiding and engaging with interested students. Furthermore, with 8 years' classroom experience, Mr. Coleman offers insight and a sense of professionalism that he can implement into our summer camp program.
And to introduce our partner, Ventovate, we would like to extend an Andre The Giant-sized thank you for your role in our first ever summer camp.
Ventovate was established in 2013 with a focus on combining the concepts of invention and innovation(hence the name Ventovate, a portmanteau of the words invent and innovate) that lead to the dramatic improvement in the human condition. From this mission, DefragEx came to fruition.
To quickly give you a brief on what DefragEx is, it is a computer-based tool helping students look outside the box for new perspectives and approaches that can assist them in solving problems associated with school work and assignments. In Ventovate's words, DefragEx is:
"The DefragEx computer interface name comes from Defragmented Execution, a process of pulling together, analyzing, and gaining feedback on how a person's thought process is approaching a subject or problem. It is related to the concept of "ab-initio" or "from first principles," and associated applications like the "objective, strategy, tactic" breakdown.
DefragEx helps students explore and develop their own thought processes, giving each a greater chance to better master a subject area and find novel solutions."
If you are looking for more information on Ventovate, we highly encourage you to visit their website and to contact them with any questions or comments.
The Educators of America Summer Camp will be a total duration of 5 weeks at UB's Campus in Amherst, NY. If you would like to register your child(ren) for the Educators of America Summer Camp, please contact us today!